XLSEAFOOD customer service WeChat account: XLSEAFOOD3, telephone 1(626)-559-1781 Working hours: LA time Monday to Friday: 9:00-16:30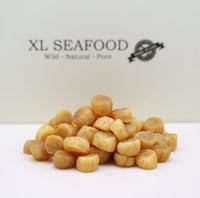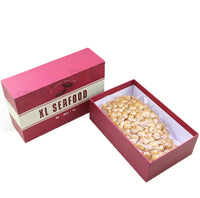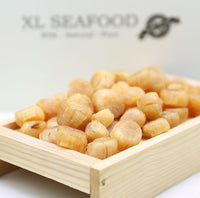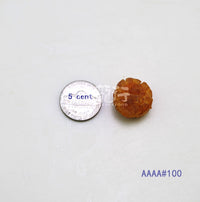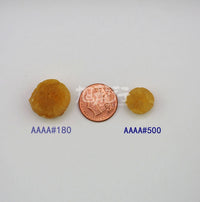 特级日本宗谷足干干贝(礼盒装)
Regular Price

$119.99

Sale Price

$119.99

Regular Price

Unit Price

per
产品特点:
色泽金黄,肉质鲜嫩,味道鲜美,颗粒饱满
注意:
足干干贝(干度96%),红白礼盒可选。本司所销售干贝为日本北部内河贝类的江瑶柱,非核辐射产区产品,通过美国FDA和防疫检验入境后,方可在美国境内销售。
---
产品说明
干贝,又名「元贝」或「江瑶柱」,是扇贝、日月贝、江浮贝的闭壳肌干制而成的,俗名"瑶柱"。形呈短圆柱体,体侧有柱筋,颜色呈深浅黄色不等,存放时间久的有些带白霜。
干贝肉质细嫩,肉味清甜,具有特殊的鲜香味道,颗粒愈大的味道愈好。
可与其他原料配合做菜,也可单独做菜,是深受人们喜爱的海味珍品。
制作干贝时,只会选取新鲜干贝的柱头肉加工晒干,贝边等部分则不会采用。
高营养的调鲜品
《本草从新》说:能"下气调中,利五脏,疗消渴"之效;
《本草求原》说:"滋真阴,止小便" 之功。
瑶柱含丰富蛋白质和少量碘质,功效与海藻、海带接近,但它含有非常浓郁的香味,味道更可口、更鲜美,无论做主料或配料都能突出或增添菜肴的美味。
墨西哥拥有漫长的浅海海岸线,野生贝类资源非常丰富。
墨西哥干贝,选自浅海所产的特大野生扇贝,取其闭壳肌自然风干而成。
因野生海贝巨大,往往需要8年以上方可长成,所以闭壳肌肉也异常粗壮,个头要远远大于亚洲的养殖贝的瑶柱。
规格说明
规格对比
美国出售的宗谷干贝一般以磅为重量单位,干贝体积越大,每斤颗数越少。根据贝粒体积和湿度,会分为特级干贝和一级两个级别。
特级:要求足干(干度>96%), 颗粒呈金黄色,根据颗粒大小,分为以下5个等级):
特级较大(LL)

日本干贝

: 40-50粒

每磅

特级大(L)

日本干贝

: 50-70粒

每磅

特级中(M)

日本干贝

: 70-90粒

每磅

特级小(S)

日本干贝

: 100-130粒

每磅

特级较小(SA) 日本干贝: 130-150粒每磅

特级较小(SSA)日本干贝: 160-250粒每磅

特级珍珠级日本干贝: 300粒+每磅
一级:要求足干(干度>85%),颗粒呈淡黄色,根据颗粒大小,一般分为以下3个等级(型号)
一级大号(L)日本干贝200: 150-250粒每磅

一级中号(M)日本干贝300: 250-350粒每磅

一级小号(S)日本干贝400: 350-450粒每磅
中国和日本干贝等级差异
虽然日本及中国干贝同样分为5级,但须要特别留意,属同一等级的日本干贝和中国干贝体积并不相等。中国干贝体积偏小,较大级(LL)的中国干贝,体积往往只等同于大级(L)的日本干贝,故选购时切勿单以日本干贝与中国干贝的等级直接比较。
同属中级(M)干贝,日本出产的干贝(图左),明显比中国干贝(图右)大。
购买要点

1. 贝粒完整无缺,柱状的纤维组织肌理分明,肉质结实,裂纹越少越好。
2. 干贝表面干爽而不油腻。
为何存放一段时间后,干贝会变样?
你可能发现,干贝存放一段时间后,颜色会由金黄色变成深黄色,或者干贝表面会出现一层薄薄的白色物质,这只是干贝存放长时间后的自然变化,并非发霉或变质,深黄色及有白霜的干贝仍然是可以食用的。
结出白色盐霜现象
由于干贝是由贝类海产加工制成, 存放一段时间后,干贝内的盐分会渗透出表面,结成一层薄薄的盐霜,而并非霉菌。一般而言,味道较香浓的干贝存放一段时间后都会结出盐霜,但是贝粒的颜色不会转变,依然是金黄色。味道较清甜的干贝存放久了,颜色会变成深金黄色,甚至近乎土黄色,但一般较少出现盐霜。

干贝会由金黄色变成深黄色
泡发方法
important hint
1. After buying scallops, pay attention to the storage method, so as not to spoil the scallops due to improper storage. Chinese scallops are generally not dry enough, so they must be stored in the refrigerator as soon as possible. Once the plastic bag for storing scallops is opened, it will lose its sealing function. Therefore, the remaining scallops should be put into a dense bag before putting them in the refrigerator.
2. The Japanese Soya dried scallops with a strong taste have a lot of salt and should not be exposed to water to avoid spoilage. After the plastic bag for storing scallops is opened, it is best to put the remaining scallops into a tight bag before putting them in the refrigerator. Japanese Aomori scallops with a sweet taste have less salt content, so they can be placed in airtight containers, such as glass bottles, and stored in a place out of direct sunlight, or in the refrigerator.
料理教程
What is written in the front: All the pictures and texts of Xulongxing Daily are originals of Xulongxing Kitchen, and the copyright belongs to Xulongxing. Please respect our intellectual property rights.
Please do not repost without permission ! If you need to reprint, please contact: xlseafood@gmail.com
---
The function of scallops is nourishing yin and nourishing kidney. It is rich in protein and a small amount of iodine. Its effect is similar to that of seaweed and kelp, but it contains a very strong fragrance, which is more delicious and delicious. Whether it is the main ingredient or the ingredient, it can highlight or add to the deliciousness of the dish. . Cantonese people like to put some scallops in soup or porridge to add umami taste.
Today we will introduce a Cantonese banquet staple dish with scallops as the main ingredient - Hong Kong-style fried rice with scallops from Soya . The ingredients are natural and the flavor is strong, which will definitely add a color to your life, and also add a flavor (bi) flavor (ge) to your family banquet.
Wash the dried scallops , soak them in water for 30 minutes, steam them for 10 minutes, remove the shreds, and steam the scallop juice for later use.
Step 2: Stir-Fried Kale Slices
After the frying pan is heated up, add a little oil, fry the garlic slices, then add the sliced ​​kale, stir-fry quickly for 1 minute, take it out and set aside.
Step Three: Scramble the Eggs
Continue to heat the pan, add the oil and heat it up, add the beaten egg liquid and fry until the egg liquid is solidified, then take it out.
Put the rice in the crude oil pot, add an appropriate amount of steamed yaozhu juice to stir fry the rice, fry the rice until the rice grains are loose, pour all the ingredients and scallops that were fried before into the rice, and stir fry until the ingredients and rice are evenly distributed Finally, add light soy sauce, salt, and pepper to taste and serve.
Finished product display
The fried rice with scallops is golden in color and has a strong aroma. The pliable texture of Jiang scallops is paired with a fresh and sweet taste, and it is paired with fragrant rice grains, which will make people's index fingers move and their appetite will open up.
This dish is most suitable for uninvited guests who suddenly come to eat at home, and when there is no good food prepared at home, even if there is only such a high-quality fried rice, it can directly shock the audience. without losing face.